List of available services at Accra International Airport
There are two departure lounges located after Immigration. Adinkra which is managed by Aviance and Akwaaba under the management of AHS Menzies. There is a general seating area with a duty-free shop and bars for passenger. In addition, the State Protocol Lounge is used by Senior Government Officials/Diplomats and VVIPS.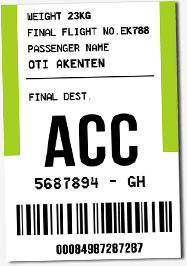 Log in

Contact us

About

2013-2018 Accra-Airport.com.